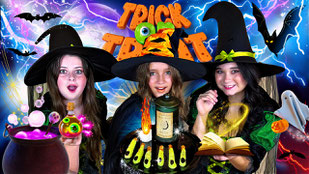 Are You Looking For a Spooky Halloween Recipe?
We want to celebrate this Halloween season by showing you how to make, spooky "Witch Finger Pretzels!   (Mu-ha-ha!)

---
Witch Finger Pretzel Recipe
Witch Finger Pretzel's are the perfect spooky treat for kids!  These easy-to-make pretzel treats are a fun way to get into the Halloween spirit.  Plus, they're so spooky and delicious that adults will love them too!
---
What are Witch Finger Pretzels?  Great question!  Think of a delicious Halloween treat that is both tasty and frightfully fun to make. This spooky treat looks just like "witch fingers," and is sure to be a hit at any Halloween party.  Plus, to make this "Witch Finger Pretzel" recipe, you only need a few easy to find frightening ingredients!

Haunted Halloween Recipes
---
Sweet!  So, How Do I Make Witch Finger Pretzels?
This is where the frightening fun begins!  A Haunted Note from the Grave: Witch Finger Pretzels is a Halloween treat that can be made ahead of time, so you don't have to worry about scrambling to get things ready before your guest arrive.  Isn't that, "spook-ta-stic?" Mu-ha-ha-ha!  To make your own Witch Finger treats, we will need to combine a few haunted ingredients...
---
Let's get started with what you need for your own "Graveyard Pudding Recipe"!!
Pretzel Rods.

Green Melting Chocolate.

Sliced Almonds.

Bowl for Mixing.

Black Gel Food Coloring.
---
Now, let's get brewing!  The first thing we are going to do is brew our haunted green candy melts. To do this, you are going to want to heat your ghoulishly green candy in a microwave safe bowl.  We recommend heating your candy for about 30 seconds at a time, and stirring your melting brew between. 
Now that your candy brew is ready to go, it's time to to dip your pretzel rods into your candy melts.  You want to make sure you get your pretzels nice and coated, so they look like perfectly spooky little witch fingers.  For shorter witch fingers, simply snap your pretzel rod in half before dipping! (Mua-ha-ha-ha!).  
Are you ready for the finishing touches? It wouldn't be witch fingers if we didn't add some creepy finger nails. To do this, simply take your almond slices and paint them with black food coloring.  Once your finger nails have dried, press them onto the ends of your pretzel rods.
---
Witch Finger Pretzel Recipe
---
Ready for a Haunted Halloween Smash?
Your Witch Fingers are now ready to serve.  Make sure you take pictures of your haunted creation, and while your at it, and tag us on Instagram @ Wild Adventure Girls, before your guest devour this delicious dessert! We can't wait to see them!  If you have any other spooky recipes or ideas, be sure to share them with us in the comments below.  Happy Halloween! 
Learn how to make Graveyard Pudding Here!
---
Will Angelina, Scarlett and Annabella come face to face with laughing witches in their new haunted dessert video?  Tune is to see what happens when The Wild Adventure Girls explore the world of desserts and witches!
---
Learn How to Make a Halloween Orbeez Stress Ball! Click Here! 
Now tell us, What Have You Discovered Lately?    Like this Article?  Don't forget to share!
---