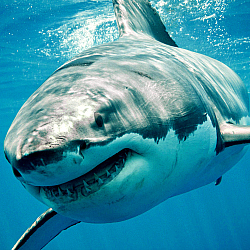 DO SHARKS SCARE YOU?
Join us as we dive deep down into the hidden underworld of one of the largest predatory creatures in the world…the Great White Shark!  Few animals strike more fear in humans, even though attacks on humans are considered rare.  Great White Sharks may seem like giant human eating monsters, but are they really?  We set out to investigate and discover some amazing facts about (dun, dun, dun) the Great White Shark!
---
Did you know that Great White Sharks have been swimming the earths oceans for over 16 million years?  That's right, these fish-eating giants can be found off the coastal waters of every major ocean and have been known to reach lengths of over 20 feet long!
Great White Sharks
Feeling a little nervous about getting in the water?  Hang with us and we'll show you why the Great White Shark is good for the ocean, as they keep the populations of fish in check, allowing for a healthy ecosystem. 
Did you know that Great White Sharks are top of the food chain and have few threats in the ocean?  Some of their favorite marine mammals to eat include sea lions, seals, and small whales.  However, they have also been known to eat sea birds, fish, and even crocodiles swimming nearby.
---
---
There are some amazing facts that you will learn with The Wild Adventure Girls in today's episode of "The Great White Shark."  But our show is about so much more than facts; we seek fun and a wild adventure!  So be brave and join us as we dive deep down and face one of the largest predators of the ocean...the Great White Shark!

Will Angelina, Annabella & Scarlett be mistaken for dinner as they set out to investigate one of the deadliest sharks in the world?  Watch this heart thumping episode below to find out & discover the fascinating world of the Sharks!
---
Now tell us, What Have You Discovered Lately? ™ Like this Article? Don't forget to share!
---