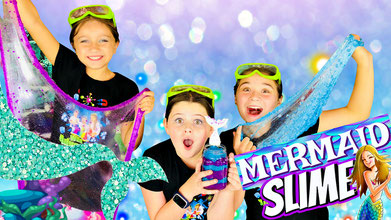 Have You Ever Wanted to Make Crunchy Mermaid Slime?
 
Today The Wild Adventure Girls are headed out to sea to show you how to make your very own Magical Crunchy Mermaid Slime! 
---
What is Crunchy Mermaid Slime?  Think of a pretty sparkly slime that has the colors of a magical mermaid, with enough crunch that will keep you crackling your slime for hours.
Sweet!  So, How Do I Make It?

This is where the stretchy fun begins!  Now it's time to mix a bit of science with crunchy slime making awesomeness.  To make your own Mermaid Slime we will need to combine a few fun ingredients...
---
Let's get started with what you need for your own "Mermaid Slime Recipe"!!
Clear Elmer's Glue.

Food Coloring (Purple and Blue).

Contact Lens Solution (this will activate your glue and turn it into gooey slime).

Baking Soda.

Glitter (Purple and Blue).

M

ini Crystal Discs (You can get this at your local Craft Store or Amazon).

Mermaid Tails.

Jars for Storage (Optional).

2 Bowls for Mixing
---
Now, let's get started!  The first thing we are going to do is take our Clear Elmer's Glue and pour 1 cup of glue it into 2 separate bowls.  Next, we are going to turn each bowl of glue into a magical mermaid color.  To do this, we are going to add some food coloring.  We will be using a Mermaid Purple and Blue. Once your colors are added, you will want to mix your ingredients together until your glue looks suitable for a mermaid!
Have you added your colors?  Great, let's keep going!  Now that your food coloring is added, we will be adding some sparkly glitter to each bowl!  Feel free to be wild and adventurous by adding a LOT of glitter to each bowl. 
It's Crunch Time!  Before we activate our slime, we have one last final fun step.  In order to turn our mermaid slime into a "crunchy" slime, we will need to add about 1 cup of 'Crystal Mini Discs' into each bowl.  Once your discs are added, mix it into your glue by giving it a couple good swirls.
Now it's time to make some slimy magic!  To activate your slime, you will need to add your contact lens solution and a pinch of baking soda.  You will want to keep adding and mixing until your glue turns into a mermaid, glittery, crunchy slime masterpiece. 
For the finishing touches, we are going to add a bit of Mermaid purple and blue slime to some Mer-tastic glass jars and then top our slime off with a super cute Mermaid Tail.
---
Will Angelina, Scarlett and Annabella be lost at sea in the land of mermaids with their new crunchy mermaid slime?  Tune is to see what happens when The Wild Adventure Girls explore the world of science and slime!
Learn How to Make Bubble Gum Here! Homemade Bubble Gum Recipe
---
Now tell us, What Have You Discovered Lately?    Like this Article?  Don't forget to share!
---