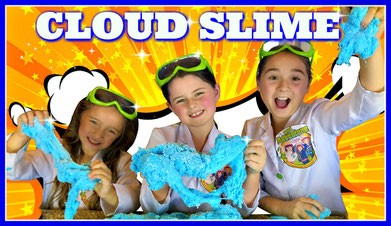 Have You Ever Wanted To Touch A Fluffy Cloud?

Today The Wild Adventure Girls is going to fly high in the sky and show you how to make your very own giant, fluffy Cloud Slime! 

---
What is Cloud Slime?  Think of a super stretchy and fluffy slime that melts away in your hand like a giant fluffy cloud!  As you stretch it, it pulls away and falls just like kinetic sand.

Awesome!  So, How Do I Make It?
This is where the slimy fun begins!  Now it's time to mix a bit of science with gooey slime making awesomeness.  To make your own Cloud Slime we will need to combine a few fun ingredients...
---
Let's get started with what you need for your own "Cloud Slime Recipe"!!
Elmer's Glue.

Food Coloring.

Contact Lens Solution (this will activate your glue and turn it into gooey slime).

Instant Snow.

A large container for mixing.

---
Now, let's get mixing!  The first thing we are going to do is take our Elmer's Glue and pour it into our container.  Next, we are going to add some food coloring.  We added blue, but feel free to go wild and be adventurous and add the fun color of your choice.
Now it's time to make some slimy magic!  You're going to add your contact lens solution and mix until your glue turns into a slime masterpiece.  Now for the cloud part...you are going to want to use a separate container and bring your "instant snow" to life.  You do this by adding a little water at a time and mixing your snow.  Once your snow is at the perfect texture, you are going to take that snow and pour it into your slime!  Once it's mixed, you have created "Cloud Slime!"

So now that you know how it works, join in on the fun at home and laugh along while The Wild Adventure Girls create Cloud Slime epicness!
Will Angelina, Scarlett and Annabella be lifted away by their new cloud slime to never be seen again?  Tune is to see what happens when The Wild Adventure girls explore the world of science and slime!
---
Now tell us, What Have You Discovered Lately?                                           Like this Article?  Don't forget to share!
---