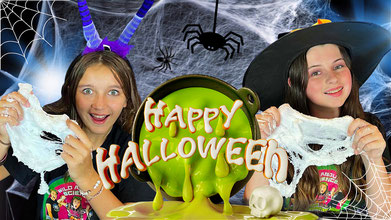 Have You Ever Wanted To Touch Turn a Spider Web Into Slime?

Today The Wild Adventure Girls is going to show you how to make Spider Web Slime!  Not only is this slime recipe fun to make, but it also glows in the dark!

---
How To Make Slime
What is Spider Web Slime?  Think of a super stretchy and fluffy slime that pulls apart just like a spider web!  As you stretch it, it pulls away and falls just like kinetic sand.  This slime recipe is very similar to Cloud Slime, only a lot more fun and spooky.  This slime for kids is not only fun to play with, but it's a great sensory activity and very satisfying to watch as the spider web slowly forms.  

Slime Recipes for Kids
---
Awesome!  So, How Do I Make This Slime Recipe?
This is where the slimy fun begins!  Now it's time to mix a bit of science with gooey slime making awesomeness.  To make your own Spider Web Slime, we will need to combine a few slime ingredients...
---
---
Let's get started with what you need for your own "Spider Web Slime Recipe"!!
Elmer's Glue.

Glow in the Dark Glitter.

Contact Lens Solution (this will activate your glue and turn it into gooey slime).

Baking Soda

Instant Snow.

A Large Bowl for Mixing.


A Blacklight. 
---
How to Make the Best Slime
Now, let's get mixing!  The first thing we are going to do is take our Elmer's Glue and pour it into our bowl.  Next, we are going to add some sparkling glow in the dark glitter.  This is going to help give your slime that extra glowing "pop" under the blacklight.
Now it's time to make some fluffy slimy magic!  You're going to add your contact lens solution, and a pinch of baking soda, and keep adding and mixing until your glue turns into a slime masterpiece. 
Ready to learn how to make slime turn into a super cool spider web?  We thought you would be!  Now that you have your slime ready to go, you are going to want to use a separate container and bring your "instant snow" to life.  You do this by adding a little water at a time and mixing your snow.  Once your snow is at the perfect texture, you are going to take that snow and pour it into your slime!  Once it's mixed, you have created "Spider Web Slime!"  This fun and easy slime recipe is perfect for both kids and adults.  Turn on the black light to watch your spider web slime glow!  For fun, you can add some toy spiders to your slime recipe and watch your toy spider craw around the glow in the dark slime. 

---
Glowing Slime - Spider Web Slime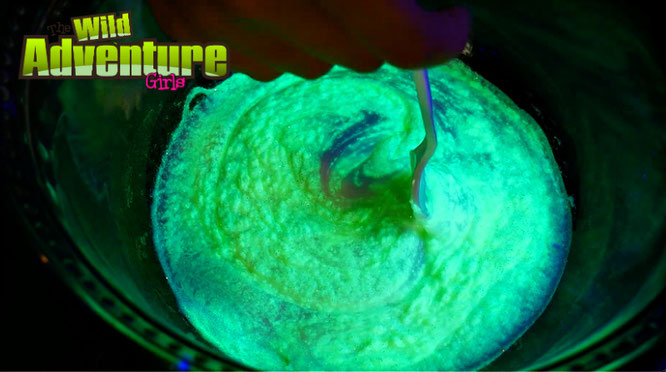 Learning how to make slime is one of our favorite things to do and there are so many different and fun slime recipes! 
We hope you enjoyed this slime tutorial on how to make spider web slime!  If you try this slime recipe at home, be sure to take a picture and tag us on TikTok and Instagram @ Wild Adventure Girls. 
So now that you know how it works, join in on the fun at home and laugh along while The Wild Adventure Girls create Spider Web epicness!
---
Will Angelina, Scarlett and Annabella be scared of their spider web slime to never be seen again?  Tune is to see what happens when The Wild Adventure girls explore the world of science and slime!
---
Now tell us, What Have You Discovered Lately?    Like this Article?  Don't forget to share!
---