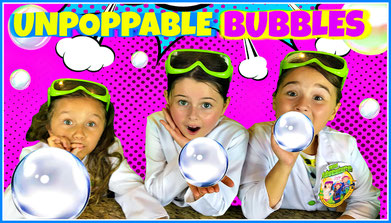 Have You Ever Tried Making a Bubble That Doesn't Pop?
 
Today, The Wild Adventure Girls are going to mix science with bubble making awesomeness and show you how to make Unpoppable Bubbles.
---
What is a bubble that doesn't 'pop'?  Great question! Think of taking your classic bubble, you know, the one that you try and blow perfectly, and then, right as it starts to take flight, you reach out to touch it, only to have your bubble burst right before your eyes! NOW, imagine that SAME bubble, made with our simple "unpoppable" recipe, and NOW you'll be able to bounce your bubble over and over again- before it finally 'pops'!" 
 Cool!  So, How Do I Make Them?
This is where it gets fun!  It is now time to mix a bit of science with unpoppable making bounciness.  To make your own Unpoppable Bubbles, we will need to combine a few ingredients...
What you need for your own "Unpoppable Bubbles."
 
 3 Cups of Water

1 Cup of Dish Soap

½ Cup of Corn Syrup

Plastic Pipet

Microfiber Gloves (we found that winter cotton gloves work as well).

Mixing Bowl
---
Let's get started!  The first thing we are going to do is fill our bowl with water.  Next, we are going to take our corn syrup and our dish soap and mix them into our water.
Starting to get a bit slimy?  Sweet, let's keep going…
Once your ingredients are mixed, it's time to pull out your pipet.  You'll want to cut off the end of your pipet in order to create enough air flow for your new and improved bubbles! 
Ready to get your gloves on?  Sweet, we are too.  It is now time to put on your gloves, take your pipet and dip it into your bubble mixture.  Once you have a nice coating on your pipet, you can start the bubble making fun!
So, now that you know how it works, get ready to join the fun and watch The Wild Adventure Girls as they show you how to make a Unpoppable Bubbles!
Learn How to Make "Dinosaur Eggs" Here!
---
Will Angelina, Annabella and Scarlett get lifted away by their brand-new bubble creations?  Tune is to see what happens when The Wild Adventure Girls explore the world of science and bubbles!
---
Now tell us, What Have You Discovered Lately?   Like this Article?  Don't forget to share!
---