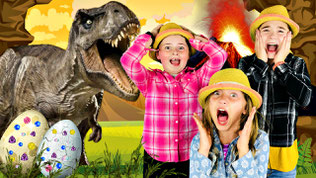 Have You Ever Wondered What It Would Be Like to Have Your Very Own Dinosaur Egg?
 Get your goggles on and watch The Wild Adventure Girls as they travel back in time into the prehistoric land of Dinosaurs!  Angelina, Bella and Scarlett will come face to face with one of the most dangerous jagged tooth creatures of that era...the T-Rex, in order to show you how to make super cool "Dinosaur Eggs," with this kid's fun activity!

---
So, how do you make a dinosaur egg?  That is a great question!  We'll go through everything you'll need to do in order to bring these dinosaur eggs to life!  But first, let's travel way back in time into the amazing and fierce world of dinosaurs and learn if dinosaurs really laid eggs!
 Did Dinosaurs Actually Lay Eggs?
According to scientist, it is believed that every dinosaur that ever lived during the Mesozoic (Mez-o-zo-ic) Era hatched from an egg. That's right, from the plant eating Triceratops to one of the most feared creature eating dinosaurs, the brutal T-Rex…all these dinosaurs started out as a cute little egg. The eggs were round or elongated and it is believed that dinosaur eggs were laid in large batches, or 'clutches', in order to help their survival chances from the jaws of a predator!
---
Egg-celent!  So How Do I Make It?  To Make Your Own Dinosaur Egg, We Are Going to Need A Few Things…
Jumbo Plastic Eggs.

Air Model Clay.

Food Coloring.

Plastic Jewels.

Glitter.

Rubber or Latex Gloves.

Any Bead Decor That You Would Like on Your Egg.
---
 Once you have your ingredients ready, YOU (yes you!) get to participate right along with us and make your very own super cool Dinosaur Egg!  The first thing we are going to do is take our Air Model Clay and mix it with food coloring.  (Note: you will want to wear gloves for this step.  In the episode we forgot to do this, and our hands were purple for a week.)  The color you choose is up to you, so feel free to go wild and be adventurous!
Next, you'll need to press your clay all around your plastic egg and then smooth it out with your hands.  You don't want to take too much time here, because the air will start drying your clay.  If you find your clay is drying too fast, you can add a tiny bit of water and coat it around your egg.
Getting egg-cited to meet your little Dino?  Sweet, let's keep going!  Now that your clay is nice and smooth around your egg, it is time to decorate!  The design is up to you, and in our episode, all 3 of our eggs looked different and unique.  To decorate, you will want to take your bead or jewel and press it right into your clay.  Continue pressing your decorations onto your clay until you have a Dinosaur Egg fit for a wild adventurer!
Will Angelina, Annabella & Scarlett escape the jaws of T-Rex in time to return home with her eggs?  Watch this heart pumping episode below to find out and to learn how to make your own Dinosaur Egg!
Learn About Great White Sharks Here:  The Great White Shark
---
Now tell us, What Have You Discovered Lately? ™ Like this Article? Don't forget to share!
---