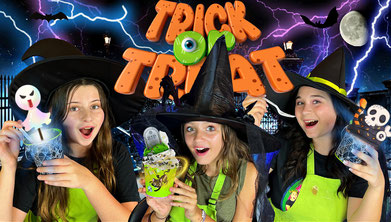 Are You Looking for a Spooky Halloween Dessert?

Halloween is just around the corner, so The Wild Adventure Girls have set out to make the ultimate spooky dessert: Graveyard Pudding! (Mu-ha-ha!)

---
Graveyard Pudding Recipe
This Halloween, impress your friends and family with this spooky Graveyard Pudding dessert recipe!  It's easy to make and perfect for a Halloween party!  Plus it's gooey and frightfully delicious. 
What is Graveyard Pudding?  Great question!  Think of a delicious Halloween dessert that is made with chocolate, Oreos, gummy worms and candy pumpkins.  This spooky dessert looks just like a haunted graveyard, and is extremely fun to make and decorate.

Sweet!  So, How Do I Make Graveyard Pudding?
This is where the haunted fun begins!  A Quick Haunted Note: Graveyard pudding is a dessert that can be make ahead of time, so you don't have to worry about last-minute preparations.  Isn't that, "spook-ta-stic?" Mu-ha-ha-ha!  To make your own Graveyard Pudding, we will need to combine a few fun ingredients...
---
Let's get started with what you need for your own "Graveyard Pudding Recipe"!!
Large Cool Whip.

Milano Cookies (these will act as your spooky gravestones). 

Mixing Utensils.
---
Now, let's get brewing!  The first thing we are going to do is brew our haunted Vanilla pudding mix, and our Chocolate pudding mix. To do this, you will need to separate your puddings into two separate bowls.  Then add 2 cups of milk to each. (Be sure to double check your puddings instructions on the back of the box). Whisk your pudding mix and milk for about 2 minutes, then set aside in the fridge for 5-10 minutes. 
Now that your pudding is ready to go, we are going to fold in our ghostly Cool Whip.  To do this, simply slice your Cool Whip in half and add 1/2 of the contents into each pudding dish.  Once finished, mix it all together! Smells de-lish, doesn't it?
Now it's time to make some graveyard magic!  In order to do this, we need to create some frightfully yum-tastic layers.  To do this, you will need to pour your vanilla pudding into a 9 x 13 inch pan, and spread it all along the bottom.  Next, we are going to top our vanilla pudding with a layer of delicious Oreo cookies.  Once your cookies are are perfectly arranged, go ahead and top your cookies with your spooky chocolate pudding, and spread it  out evenly.
Ready for a haunted Graveyard Smash?  It wouldn't be a graveyard, without some edible dirt... now would it? To make your edible dirt, simply take a ziplock bag, fill it with 2 cups of Oreo cookies, and smash away!  Once it's to the cookie crumble size of your choice, sprinkle it all over your graveyard.
Now, here comes the fun part!  It's time to decorate.  Use your Milano cookies, and turn them into spooky gravestones.  Add your candy corn, candy pumpkins and wiggly gummy worms. Have a blast turning your Graveyard Pudding into a haunted delight!
Your Graveyard Pudding is now ready to serve.  Make sure you take pictures, and while your at it, and tag us on Instagram @ Wild Adventure Girls, before your guest devour this delicious dessert!
---
Will Angelina, Scarlett and Annabella come face to face with Zombies in their new haunted dessert?  Tune is to see what happens when The Wild Adventure Girls explore the world of desserts and graveyards!
---
Learn How to Make a Halloween Orbeez Stress Ball! Click Here! 
Now tell us, What Have You Discovered Lately?    Like this Article?  Don't forget to share!
---