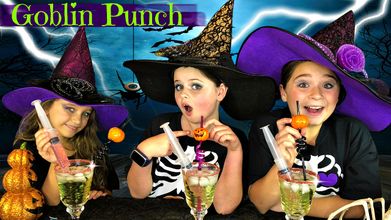 Are You Ready for Hauntingly Spook-tac-ular Halloween Treats?
It's one of our favorite times of the year and today we are going to show you how to make a Ghostly Goblin Punch! Perfect for kids, or any Halloween Party!
---
What is Ghostly Goblin Punch? Think of taking your favorite sparkling drink and turning it into ghostly fun delicious punch.
Sweet!  So, How Do I Make It? Or Dare I ask?

This is where the spook-tac-ular fun begins!  Now it's time to mix a bit of Halloween with Goblin Punch making Spook-tac-u-larness.  To make your own Ghostly Goblin Punch, you will need to brew a few spooky ingredients...
---
Let's get started with what you need to make "Ghostly Goblin Punch!"
Haunted Goblet Glasses or Cups.

7up or Sprite

Cherry 7up

Ginger Ale (we will be using just a splash)

Jolly Rancher Green Apple Mix (mainly used for coloring)

Dessert Syringes (we found ours off Amazon).

 

Sugar

Haunted Straws (optional).
---
Now, let's get brewing! The first thing we are going to do is take our witches mugs and dip the rim of our glasses into a bit of water and then sugar.  For fun, you can mix a drop or two of food coloring with your sugar to make your witches mugs pop.  Next, we are going to add 7up to our glasses.  Now that your 7up is bubbling, it's time to mix in some haunted Jolly Rancher Green Apple mix.  This is going to turn your brew into a Ghostly Green Goblin Punch.
Smelling the Goblins in the air?  Sweet! Let's keep going…
We are now ready to add the first Spook-a-licious splash of Ginger Ale into our Witches Mugs!  This is going to give your punch a hint of goblin spice.  Once your splash is added, it's time to pull out your syringes and fill them with your haunted red cherry 7up.  
Trick or Treat? 

Ready to bring your Ghostly Goblin Punch to life?  Great!  Now it's time to add your ghostly cold ice, your cherry syringes and your haunted straws to your brew and enjoy!

So now that you know how it works, join in on the haunted fun and laugh along while The Wild Adventure Girls create Ghostly Goblin Punch epicness!
Will Angelina, Scarlett and Annabella be turned into Goblins as they make this haunted punch recipe?  Tune is to see what happens when The Wild Adventure Girls explore the world of Halloween and treats!
---
Now tell us, What Have You Discovered Lately?    Like this Article?  Don't forget to share!
---