---
How Can I Turn the Grinch into a Marshmallow Treat?  Think of being able to take your favorite grumpy Grinch character, and turning him into a super squishy and chocolatey marshmallow treat.
 Sweet!  So, How in the Whoville Do I Make It?
This is where we're going to steal Christmas with our amazing holiday treats!  Now it's time to mix a bit of Holiday magic with gooey Grinch making sweetness.  To make your own Grinch Marshmallow Pops, we will need a few yummy ingredients...
---
What you need to make "Grinch Marshmallow Pops."
Jumbo Marshmallows.

    

Green, White, Red and Yellow Chocolate Melts.

(An alternative to the chocolate melts listed above, you can use White Chocolate Chips and Food Coloring.

Chocolate Chips

Cake Pop Sticks
---
Let's get started!  The first thing we are going to do is take 3 marshmallows and push them on our Cake Pop sticks.  We're going to want to push them down just enough, to leave room at the top of our stick for our Grinch, "Santa Hat."
Now that are marshmallows are on, it's time to create the Grinch body.  To do this, we will need to melt a 1 ½ cups of Green Chocolate Melts and then spread our green chocolatey goodness around the marshmallows until everything looks smooth.
Smelling the Holiday magic in the air?  Sweet! Let's keep going…
It's now time to get the Grinch ready for his big day and make his Santa hat!  To do this, we are going to take a marshmallow and cut it into the shape of a triangle.  Once our shape is perfect, we will need to warm up our "red" chocolate melts, and then spread the cheer for all to hear over our Santa hat.  Once your hat is covered, we will need to set our hat to the side to dry.
Ho, Ho, Ho!
Now that everything is dry, it's time to add the finishing touches.  The first thing we are going to do is place our Santa hat, on top of our cake pop stick.  Then to hold everything in place, and give our hat the complete Santa look, we are going melt ½ a cup of white chocolate chips, and then pipe the chocolate around the hat.
To create our Grinch face, we will need to melt our yellow chocolate and our regular chocolate.  Starting with the Grinch eyes, we are going to dab on 2 little yellow circles for his eyes, and then take a toothpick and our regular chocolate to make the rest of his face.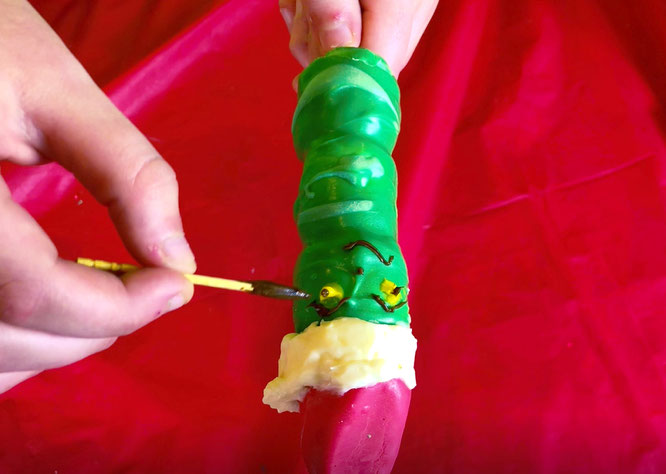 Did you hear that? That sounds like a heart that grew 3 sizes!  We of course must add a heart to our Grinch Marshmallow Pop.  To do that, we will take another toothpick and dip it into our red melted chocolate and draw on a heart fit for a Grinch.
So now that you know how make these delicious treats, join in on the holiday fun and laugh along while The Wild Adventure Girls create Grinch Marshmallow Pops.
---
Will Angelina, Scarlett and Annabella decide to steal Christmas with the Grinch?  Tune is to see what happens when The Wild Adventure Girls explore the world of Christmas and treats!
---
Now tell us, What Have You Discovered Lately? ™    Like this Article? Please Share!

---