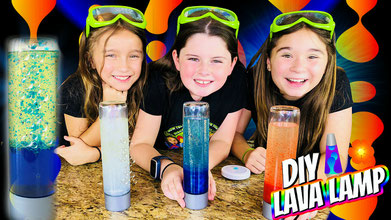 Have You Ever Wanted To Make a Lava Lamp?


Today The Wild Adventure Girls are heading back to the 1960's to show you how to make your very own super fun lava lamp!

---
Where Did the Idea of a Lava Lamp Come From?  Great question!  It all started back in the 1940's when a British entrepreneur by the name of Edward Craven-Walker came up with this groovy idea! It has been said that he was inspired by an egg timer in a pub which was made of a cocktail shaker filled with alien-looking liquids that were bubbling on a stove top. He later brought that idea to life, just like we are going to show you how to do today!
Awesome!  So, How Do I Make It?
This is where the bubbly fun begins!  Now it's time to mix a bit of science with groovy lava lamp making awesomeness.  To make your own lava lamp we will need a few things...
---
Let's get started with what you need for your own "Homemade Lava Lamp"!!
Water Bottle.

Food Coloring.

Vegetable Oil (most light-colored oils will work).

Alka Seltzer.
---
Let's get mixing!  The first thing we are going to do is pour out the water from our water bottle and set it aside.  Next, you will need to pick the perfect color for your lava lamp.  We went with a metallic food coloring, but feel free to go wild and be adventurous, and pick the color of your choice.  Once you have your color, you will need to mix it into ¼ of the water from your water bottle and set it aside.
Got your groovy color ready?  Sweet, let's keep going!  Next, you will need to take your empty water bottle and fill it back up about 3/4th of the way with vegetable oil.  Make sure there is plenty of space left for your colored water.  Once your vegetable oil is in, you can pour your colored water on top and watch all the bubbles take place!

Ready to make some groovy magic?  We thought you would be!  There is one key ingredient to making the Lava Lamp magic happen and that ingredient is Alka Seltzer.  The reason you need Alka Seltzer is because it contains Citric Acid and Baking Soda. When the tablet is mixed with water it creates thousands of tiny little bubbles!  These bubbles are going to make our lava lamps come to life.
So now that you know how it works, join in on the fun at home while The Wild Adventure Girls create Lava Lamp epicness!
---
---
Now tell us, What Have You Discovered Lately?     Like this Article?  Don't forget to share!
---