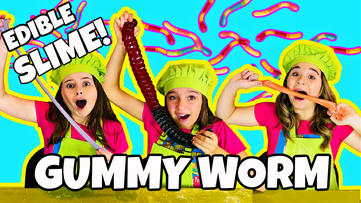 Have You Ever Wanted to Make a Gooey Slime You Can Eat? 
Today The Wild Adventure Girls are headed straight from the candy store to show you how to make, "Edible Slime" from wiggly gummy worms candy.  Kids love slime and candy, so get ready for a fun, stretchy activity to excite your kids brains and creativity? One that ends in a sweet candy treat!
---
What is Edible Slime and How Do You Make It? Great question!  "Edible Slime" is a super stretchy slime that can you eat just like candy.  If fact, it's made from candy, and today we are going to show you the step-by-step instructions on how to make your very own edible slime from Gummy Worms.  Oh yeah baby! (It's okay, we knew you wanted to say it too).
 Sweet!  So, How Do I Make It?
This is where the gummy candy slimy fun begins!  Now it's time to mix a bit of gummy candy magic with gooey slime making awesomeness.  To make your own Edible Slime we will need to combine a few delicious ingredients...
---
 Let's get started with what you need for your own "Gummy Edible Slime"!!
A Bag of Gummy Worms Candy. (You can also use Gummy Bears and Make an Edible Gummy Bear Slime Instead).

Powdered Sugar

Cornstarch.

Bowls for Mixing.

Microwave Safe Bowl.
---
Now, let's get started!  The first thing we are going to do is take delicious gummy worms and pour them into a microwavable bowl.  Mm, can you smell that?  Smells amazing right? Okay…let's keep going!
Now that your delicious gummy candy is in a microwavable safe bowl, we will need to heat these delicious gooey worms up!  To do this, so we are going to put our bowl into the microwave for 30-45 seconds at a time until the gummy candy becomes nice and melted. (Make sure you have a parent helping because the gummy candy will be hot!).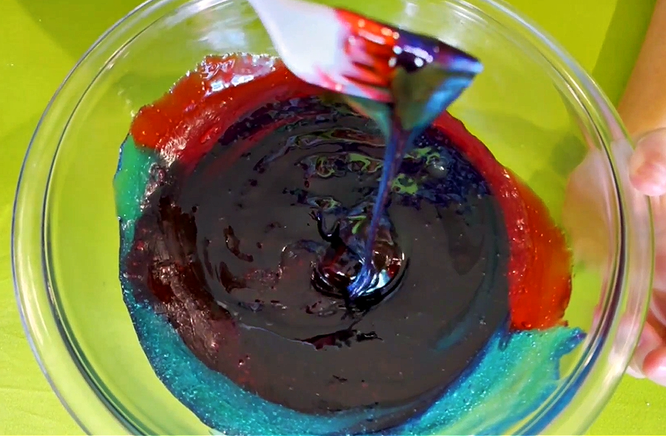 Now it's time to make an edible slime masterpiece.  We are going to take 2 tablespoons of powdered sugar and 1 tablespoon of cornstarch, and keep adding, stirring, and mixing until our melted gummy candy becomes a slime you can stretch and touch and that is no longer sticky.  Once it's cool enough to touch, don't hold back, get in there and stretch it!  This edible slime is super fun-to-make and you'll be amazed how far your edible slime can stretch! Feel free to repeat the process to make another color of edible gummy worm slime.
---
Is there the smell of slimy candy in the air?   At this point your gummy slime should be nice and stretchy!  Feel free to go wild and be adventurous and play with your slime and watch how your gooey creation stretches just like real slime! 
Once, you've had hours of fun stretching your edible slime, go ahead and dig in and taste your newly created candy masterpiece. (You're welcome, we knew you were dying to).
This slime is fun to play with and has become one of our favorite edible slime recipes. It's an easy recipe that is too much fun not to try, especially if you love gummy worms. This is an edible slime recipe kids and adults will enjoy!  Don't stop here, we have many more fun and easy DIY projects and activities for kids.  Plus, don't forget to watch our fun and educational show "The Wild Adventure Girls."
---
You'll get to join Angelina, Annabella and Scarlett and spend hours going on wild adventures, laughing out loud, and learning new things with our fun educational videos! Plus, kids love slime.  So, we will show you how to make edible slimes, homemade slime, gummy bear slime, edible play dough, easy slime recipes, homemade slime, show you step-by-step with all the edible slime ingredients and of course show you how to make the perfect slime.  We know, awesome right!
Have you tried any of our DIY's, Edible Slimes, Science Experiments or Adventures?  Follow us on Instagram @ Wild Adventure Girls and use Hashtag #WildAdventureGirls
---
Will Angelina, Scarlett and Annabella get stuck in a gummy candy eating coma with their new edible slime recipe?  Tune is to see what happens when The Wild Adventure Girls explore the world of gummy worms and edible slime!
Looking for another super fun kid activity to do at home? Click here and Learn How to Make Homemade Bubblegum:  Bubble Gum Recipe