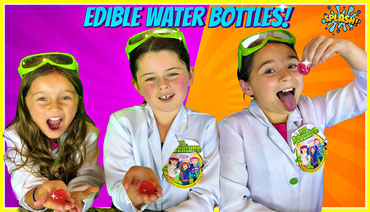 Have You Ever Tried Eating a Water Bottle?
We didn't think so! In this episode, The Wild Adventure Girls will mix science with food!  Well, sort of... 

---
So, how do you make a water bottle edible? Great question!  Let's dive into science and learn about some of the neat ingredients it takes to make this experiment work!
What Is A Edible Water Bottle?
An edible water bottle is a round clear-like water container made from sodium alginate which comes from brown algae.  The container traps a small amount of water in a membrane made from brown algae and calcium chloride.  Think of making a giant Orbeez ball, and then being able to drink it.
---
Sweet!  So, How Do I Make Them?
This is where it gets fun!  Now it's time to mix a bit of science with water drinking awesomeness.  To make your own edible water bottle, we will need to combine a few ingredients...
---
Let's get started with what you need for your own "Edible Water Bottle"!!
Sodium Alginate.

Calcium Lactate (We found ours off Amazon).

A Hand Mixer.

A Measuring Cup.

Measuring Spoons.

A couple bowls to mix your ingredients.

Water.
---
Now, let's get mixing!  The first thing we are going to do is take about a tea spoon of our "Sodium Alginate" and blend it in a cup water with our hand blender.  Next, we are going to set that a side for 15 minutes to get all the air bubbles out.  Now it's time to make a Sodium Lactate bath using about 5g of Sodium Lactate and 4 cups of water.  We will mix this bath gently together.  Now it's time for some edible water bottle magic!  We are going to take a spoonful of our Sodium Alginate and slowly add it to our Lactate bath.  Have fun and go wild!  Feel free to make as many water bottles as you like.  Then we are going to slowly stir our bath for 3 minutes.

So now that you know how it works, join in on the fun at home and laugh along while The Wild Adventure Girls create Water Bottle epicness!
Will Angelina become so consumed with the power of using a hand mixer, that she blends out all of their ingredients?  Tune is to see what happens when The Wild Adventure girls explore the world of science and water!
---
Now tell us, What Have You Discovered Lately?                                           Like this Article?  Don't forget to share!
---