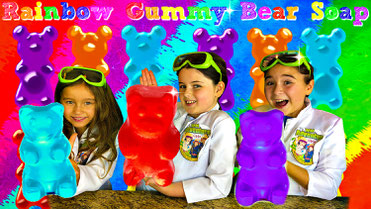 Have you ever tried turning a Gummy Bear into soap?

Today, The Wild Adventure Girls are going to show you how to turn a Gummy Bear into a super fun colorful jiggly jelly soap!
---
So, how do you turn a Gummy Bear into Soap?  We are so glad you asked…this wiggly, jiggly soap recipe makes washing your hands so much fun and it is easy to make.  Let's look at what ingredients we will need to get started!
---
Ingredients You'll Need to Make Squishy Gummy Bear Soap:
Jumbo Gummy Bear Mold.

Melt and Pour Soap Base.

Yummy scents (we used a cotton candy scent that we found on Amazon).

Rubbing Alcohol in a misting spray bottle.

Soap Coloring.

Glass Measuring Cup.
---
Ready to get started?  We thought so!  The first thing we are going to do is take our soap base and cut it into 1-inch pieces.  Next, we are going to take a few pieces of our soap base and place them in our glass measuring cup, and stick it in the microwave for 20 seconds at a time.  You want to make sure your soap base is nice and hot, so be careful when handling.
Now that our soap is melted, it is time to add our soap coloring and some yummy scents and then mix it all together.  We are making all the colors of the rainbow, but feel free to go WILD and choose the colors you like best.
Time to work fast.  Once your coloring is mixed with your soap base, you will need to quickly pour your mixture into the mold before it can cool.  Then just repeat the steps above for each super fun gummy bear color.
Are you ready for the Wiggle, Giggle?  After your ingredients are poured into your gummy bear mold, you will want to give the back of your molds a light spray of rubbing alcohol.  This will remove any remaining air bubbles that occurred while mixing your ingredients.  Now that your cute colorful bears are sprayed, it is time to let them set by sticking them in the refrigerator for 1 hour.
---
Will Angelina, Annabella and Scarlett love their new Gummy Bear Soap so much that they will never use any other kind of soap again??  Tune in to see what happens when The Wild Adventure girls explore the world of science and Gummy Bears!
---
Now tell us, What Have You Discovered Lately?            Like this Article?  Don't forget to share :)

---