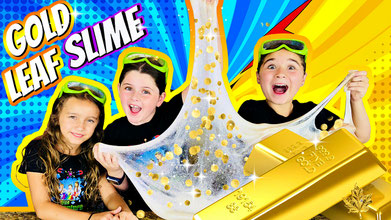 Have You Ever Wanted to Turn Your Slime into Real Gold?


Today The Wild Adventure Girls are mining for gold in order to show you how to make your very own Gold Leaf Slime! 
---
What is Gold Leaf Slime?  Think of a super stretchy and clear slime that shines with soft, sparkly bits of gold leaf!  As it stretches, it catches the light just like a shiny bar of gold.
 Cool!  So, How Do I Make It?

This is where the golden fun begins!  Now it's time to mix a bit of science with gold mining, slime making awesomeness.  To make your own Gold Leaf Slime, we will need to combine a few fun ingredients...
---
---
Let's get started with what you need for your own "Gold Leaf Slime Recipe"!!
Clear Elmer's Glue.

Gold Leaf Sheets (We found ours off Amazon).

Contact Lens Solution (this will activate your glue and turn it into gooey slime).

Baking Soda.

A bowl for mixing.
---
Now, let's get started!  The first thing we are going to do is take our Clear Elmer's Glue and pour it into our bowl.  Next, we will need to turn our clear glue into crystal clear slime. 
To do this, you will need to activate your slime by adding your contact lens solution, and a pinch of baking soda to your glue.  You will want to keep adding and mixing until your glue turns into a slime masterpiece. 
Are you ready to turn your slime into gold?  We thought you would be!
Now that your slime is ready, you will need to lay sheets of your gold leaf papers directly onto your slime.  Feel free to go wild and be adventurous and add as much as you like. 
Once your sheets are firmly pressed to the top of your slime, you will want to poke it into your slime and mix it in!  

So now that you know how it works, join in on the fun at home and laugh along while The Wild Adventure Girls create Gold Leaf Slime epicness!
---
Will Angelina, Scarlett and Annabella be so mesmerized by their new gold slime they will never create another slime again?  Tune is to see what happens when The Wild Adventure girls explore the world of science and slime!
---
Now tell us, What Have You Discovered Lately?     Like this Article?  Don't forget to share!
---