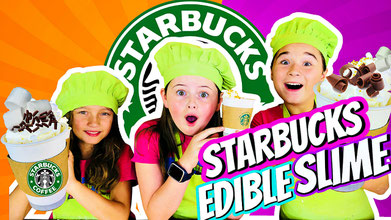 ---
What is Starbucks Edible Slime?  Imagine a delicious hot cocoa inspired slime made from fluffy marshmallows, your favorite Starbucks flavors that you can actually eat like candy!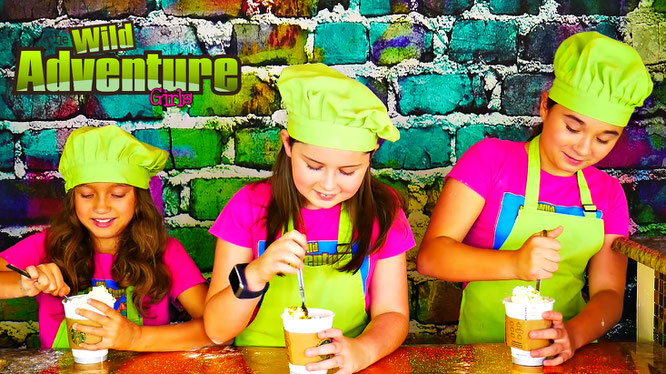 Wow!  So, How Do I Make It?

This is where the chocolatey slimy fun begins!  Now it's time to mix a bit of Starbucks magic with gooey slime making epicness.  To make your own Edible Starbucks Slime we will need to combine a few delicious ingredients...
---
Let's get started with what you need for your own "Edible Starbucks Slime"!!
A bag of Jumbo Marshmallows.

Starbucks Hot Cocoa (You will only need 1 packet per batch).

Powdered Sugar

Cornstarch.

Starbucks Cups.

Sprinkles.

Whip Cream.

Bowls for Mixing.

Tiny Hot Chocolate Marshmallows (optional).

Coconut Oil.
---
 Now, let's get started!  The first thing we are going to do is take our jumbo marshmallows and pour them into a microwavable bowl.  Next, we will need to sprinkle a packet of delicious Starbucks Hot Cocoa over your marshmallows.  Mm, can you smell that?  Smells amazing right? Okay…let's keep going!
Now that our marshmallows are covered in chocolate, we will need to heat these delicious fluff drops up!  To do this, so we are going to put our bowl of marshmallows into the microwave for 45 seconds at a time until the marshmallows become nice and melted. (If you have smaller marshmallows try 30 seconds at a time).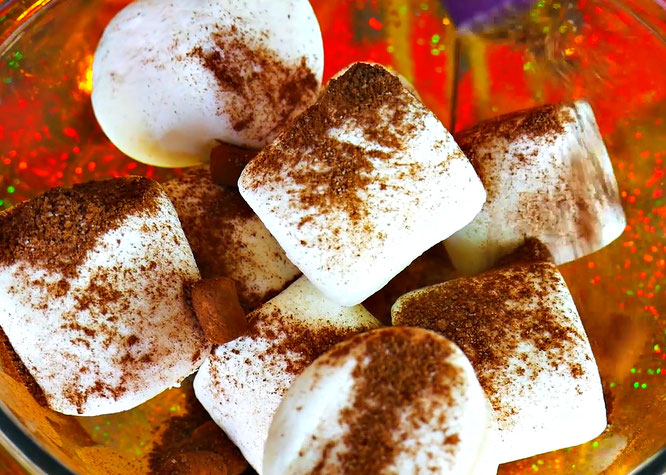 Now, that our bowls are heated, we are going to add ½ teaspoon of coconut oil to our mixture and then mix everything until smooth.
Now it's time to make an edible slime masterpiece.  We are going to take ½ cup of powdered sugar and 1 tablespoon of cornstarch, and keep adding, stirring and mixing until our melted marshmallow becomes a slime you can stretch and touch.
You may want to take it slow with this step…if you add too much powered sugar or corn starch, your slime will be just as delicious, but not as much fun to stretch.
Are you feeling the magic?   At this point your Starbucks slime should be nice and stretchy!  Feel free to go wild and be adventurous and play with your slime!  When you are ready, we are going to move on to one of our favorite parts…the decorating!  

---
It is now time to get your Starbucks aprons on and create some magic!  To begin, we are going to take our slime and drizzle it into our Starbucks cups.
Next, we are going to top our slime with some yummy whip cream, edible glitter and tiny marshmallows create a Starbuck slime that Kevin Johnson would be proud of (yes, he is the CEO of Starbucks). 
---
 Will Angelina, Scarlett and Annabella be stuck in the land of winter morning and pj's, never to create again because they are too busy eating their Starbucks Slime?  Tune is to see what happens when The Wild Adventure Girls explore the world of chocolate and slime!
Learn How to Make Homemade Bubblegum here:  Bubble Gum Recipe
---
Now tell us, What Have You Discovered Lately?    Like this Article?  Don't forget to share!
---