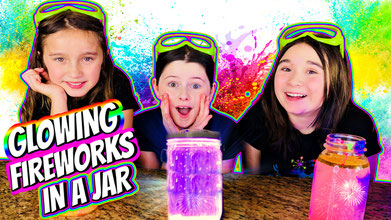 Have You Ever Seen Fireworks in a Jar?


Today The Wild Adventure Girls are diving into a world of science and fireworks in order to show you how to make your very own, "Fireworks in a Jar!"
---
What are Fireworks in a Jar?  Great question.  Think of attending a super fun celebration and having vibrant colored fireworks bursting and booming overhead. Only with this experiment, we are going to show you how to take that magical night and bottle it up into a jar, by using a few easy to find ingredients.  

Awesome!  So, How Do I Make It?
We are so glad you asked!  Now it's time to mix a bit of science with glowing firework bursting awesomeness.  To make your own "Fireworks in a Jar" experiment, you are going to need a few things...
---
Let's get started with what you need for your own "Fireworks in a Jar Experiment."
Glass Jar.

Water.

Food Coloring or non-toxic paint. We used "Glow in the Dark" paint for our episode.

Vegetable Oil.

Pipettes (if you are using paint).

Black Light (optional).
---
Let's get started!  The first thing we are going to do is fill our jars one inch from the top with water.  Next, it's time to get our mixture ready so we can create some epic fireworks.  To do this, we are going to pour about 3 tablespoons of vegetable oil into a small dish and then add a few drops of food coloring or paint. Feel free to go wild and be adventurous and pick the colors of your choice.  Once you have your colors, you will want to add about 3-5 drops of each color you choose.
Are you ready for a colorful show? We knew you would be!  Now that your firework mixture is ready, it is time to pour it into your jar!  Hold tight, it might take a second to start erupting…but when it does you can watch the colors shoot down like fireworks creating a super fun show.

 So now that you know how it works, join in on the fun at home while The Wild Adventure Girls show you how to make Fireworks in a Jar!
---
Will Angelina, Scarlett and Annabella have so much fun making fireworks that they will never film again?  Tune is to see what happens when The Wild Adventure Girls explore the world of science and fun!
Learn How to Make Homemade Lava Lamps Here! Homemade Lava Lamp
---
Now tell us, What Have You Discovered Lately?     Like this Article?  Don't forget to share!
---