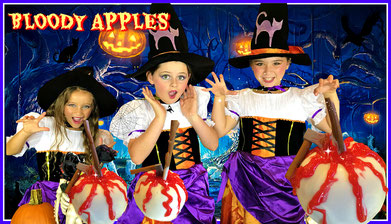 Are You Ready to Make  Spook-tac-ularly Fun Halloween Apples?
Today, The Wild Adventure Girls are going to show you how to make delicious Bloody White Chocolate Candy Apples, which are deliciously scary and perfect for Halloween.
---
What are Bloody White Chocolate Candy Apples?  Think of taking your favorite Halloween apple treat and turning it into something so spook-tac-ular, it would be fit for a vampire!
Sweet!  How Do I Make It? Or Dare I ask?
This is where the ghoul-ly fun begins!  It is now time to mix a bit of Halloween Magic with yummy bloody apple making awesomeness.  To make your own Bloody Candy Apples, we will need to brew a few ghostly ingredients...
---
Let's get started with what you need to make "Bloody White Chocolate Candy Apples!!
4-6 Pre-Washed Apples.

12oz Ghostly White Chocolate Chips.

Witches Broom Sticks (Apple Sticks).

Vampires Blood (

Wilton's Red Sparkle Gel

).

A Large Bowl for Mixing.

1 Tablespoon of Coconut Oil.

Edible Axes for Fun.



---
Now, let's get brewing!  The first thing we are going to do is take our Witches Broom Sticks (apple sticks) and stick them into the center of our apples.  (Don't worry if they let out a little scream, it's just part of the process).  Next, we are going to prepare our Ghostly White Chocolate.  To do this, we are going to pour our chocolate into a microwavable bowl and stick it in the furnace for one minute until our chocolate is nice and melted.
Now that your chocolate is melted, you will want to add 1 tablespoon of coconut and mix it into your brew until it is nice and smooth. 
Smelling the Halloween aroma in the air?  Sweet! Let's keep going…
We are now ready to take our apples, and gently swirl it into our white chocolate brew.  Once all your apples are nicely covered, you will want to stick them in the dungeon (refrigerator) for 15 minutes to cool off.

Once your apples are nice and cool, is it time to turn them into bloody-licious candy apple treats!  To do this, you will need to take your Walton's Red Sparkle Gel and drizzle it along the top of our haunted apples. Feel free to go wild and be adventurous and make it look as ghostly chilling as you like.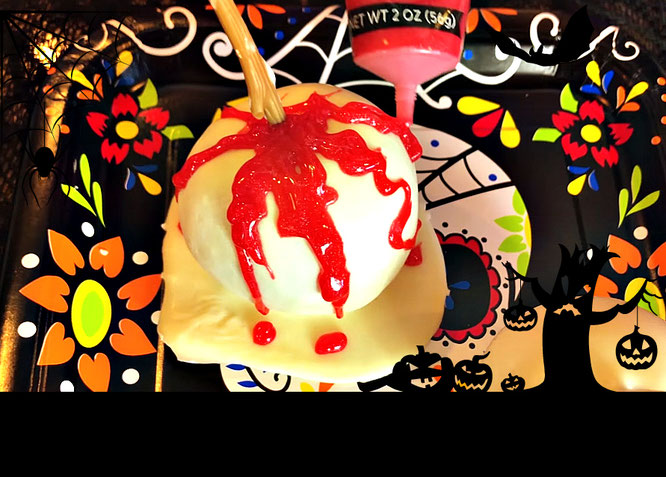 Trick or Treat?  
Are your apples looking spook-tac-ular?  We thought they would be!  For the finishing touches, we are going to take our edible axes and stick it on our apple, to create a look that would make a vampire drool. 
So now that you know how it works, join in on the delicious fun and laugh along while The Wild Adventure Girls create Bloody Candy Apple epicness!
---
Will Angelina, Scarlett and Annabella create an apple so bloody-licious that they get invited to Dracula's Halloween Party?  Tune is to see what happens when The Wild Adventure Girls explore the world of Halloween and treats!
Learn How to Make Candy Corn Jello Treats! Halloween Jell-O Treat Recipe
---
Now tell us, What Have You Discovered Lately?    Like this Article?  Don't forget to share!
---