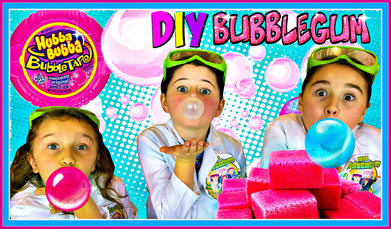 Have You Ever Tried to Blow A Giant Bubble?

Today, The Wild Adventure Girls are going to mix science with sugar...well, sort of.  In this episode, Angelina, Annabella and Scarlett will show you a super chewy and tasty way to make your very own homemade Bubble Gum!

---
What is Bubble Gum Made Of?  Great question!  Way, way back in the day, bubble gum was made from a substance called chicle (sic-le).  Chicle is a latex gooey sap that oozed out of a Sapodilla tree.  This sap is very similar to rubber and doesn't digest when swallowed.  This ooze was then collected and colored magically to look edible and then mixed with sugar and flavoring to create a bubble gum that people can't get enough of.  Fast forward to present day, and chemists learned how to make an "artificial" gum base which is now used instead of chicle.  Sound delicious?  We know!  Let's keep going...

Sweet!  So, How Do I Make It?
This is where the bubble poppin' fun begins!  Now it's time to mix a bit of science with sugary bubble making awesomeness.  To make your own Bubble Gum, we will need to combine a few fun ingredients...
---
Let's get started with what you need for your own "Bubble Gum Recipe"!!
1/3 Cup of Gum Base.

1/2 Tablespoon of Light Corn Syrup.

3/4 Cup of Powdered Sugar


2 Teaspoons of Jell-O or Kool-Aid Mix for Flavoring.

A Bowl and Utensils for Mixing.

---
Okay, let's make some bubble gum!  The first thing we are going to do is take 1/3 cup of gum base and pour it into a microwavable bowl.  Next, we are going to add a 1/2 tablespoon of light corn syrup to our gum base.  Ready to sweeten this baby up?  Let's do it.  You're going to want to take 2 teaspoons of your favorite Jell-O or Kool-Aid and mix it into your ingredients. 
Once everything is mixed, we will need to warm our ingredients by sticking it in the microwave for 30 seconds.  Once everything is melted, you are going to want to keep mixing until everything becomes a yummy, gummy goo.
Now it's time to make some bubble magic!  On a separate plate, you will want to add 3/4 a cup of powdered sugar and form it in the shape of a volcano.  No need to spend time on making it look perfect.  Once you have your pile of sugar, you will want to press the sugar down in the middle and pour in your gummy ingredients.  Then you are going to want to keep mixing your ingredients until it becomes a giant piece of bubble gum!
So, now that you know how it works, join in on the fun at home and laugh along while The Wild Adventure Girls create Bubble Gum Poppin' Deliciousness!
Will Angelina, Scarlett and Annabella blow a bubble so big that they will be lifted away by their giant bubble gum bubble?  Tune is to see what happens when The Wild Adventure girls explore the world of science and gum!
---
Now tell us, What Have You Discovered Lately?                                           Like this Article?  Don't forget to share!
---