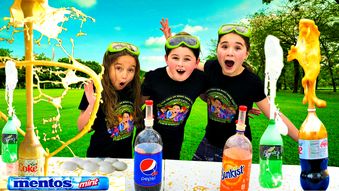 Have You Ever Tried Mixing Soda with Mentos Candy?

Today, The Wild Adventure Girls are going to mix science with carbonated bubble bursting awesomeness and show you what happens when you mix soda with Mentos candy!
---
What is the Mentos and Soda Experiment?  Great question!  This experiment is about the physical reaction between the fizzy carbonation that is pumped into every delicious soda, and the layers of sugar coating that is found on every Mentos candy.  In the science world, this physical reaction is called "Nucleation" (Nuc-le-ate-ion).  The Mentos candy has tiny little bumps on their sugar coating called "Nucleation" sites.  These little bumps are great attractors for the carbonated gas, which will cause the gas to cling onto the candy at these Nucleation sites and form a massive about of bubbles.  As the Mentos makes its way to the bottom of the soda, these foamy bubbles have no other place to go, except to cause an epic eruption out of the top of your soda!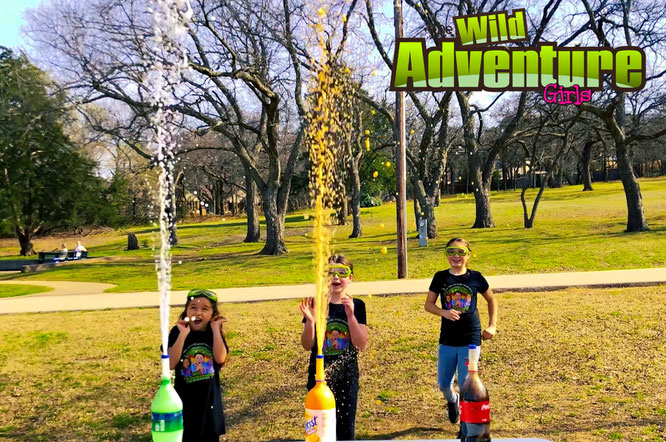 Awesome!  So What Soda works the best?   
In today's episode, we put that question to the test and will be testing the height and reactions of some of the most popular soda's!
---
---
Cool!  So, How Do I Try This Experiment?
This is where it gets fun!  It is now time to mix a bit of science with carbonated explosiveness.  To make do your own Mentos and Soda Experiment, we will need a few things...
 What you need for your own "Soda and Mentos" Experiment.
Soda of Your Choice.

Geyser Tube. (We found our off of Amazon...can also be found on Steve Spengler's Website).

Mentos Candy.
---
 Let's get started!  The first thing we are going to do is fill our Geyser Tube with Mentos candy!  Make sure your Geyser tube is locked at the bottom, so your candy doesn't spill out before you are ready.
Next, it's time to get locked and loaded…we are going to unscrew the top of our soda and attach our Geyser Tube.  Feel free to be wild and adventurous and try more than one soda at a time!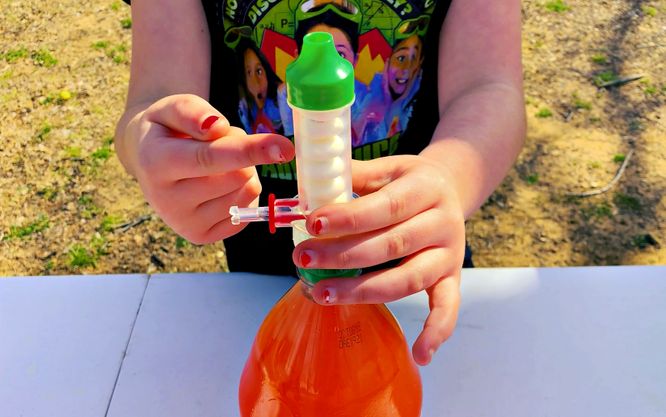 Next, it's GO time!  You're going to pull the little pin out of the Geyser Tube and release your Mentos into your soda!  Get ready to jump back so you don't get a head full of fizzy soda!
So, now that you know how it works, get ready to join the fun and watch The Wild Adventure Girls as they show you how to do the "Soda and Mentos" Experiment!
---
Will Angelina, Annabella and Scarlett get covered in soda from an experiment gone wrong??  Tune is to see what happens when The Wild Adventure girls explore the world of science and soda eruptions!
---
---
Now tell us, What Have You Discovered Lately? ™  Like this Article?  Share it below!

---