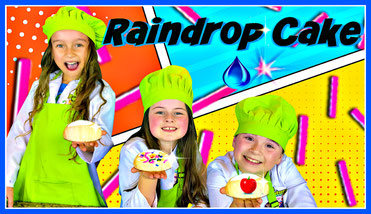 Have You Ever Tried Eating a Giant Raindrop?

Today, The Wild Adventure Girls are going to mix science with cake...well, sort of.  In this episode, Angelina, Annabella and Scarlett will show you an exciting and tasty way to make your very own jiggly Raindrop Cake!

---
So, how do you make a raindrop edible?  Great question!  Let's dive into science and learn about some of the neat ingredients it takes to make this recipe work!
What Is Raindrop Cake?
Raindrop Cake is a fun and jiggly treat derived from a Japanese dessert called "Mizo Shingen Mochi."  It was created to look like, yes you guessed it...a big clear raindrop!  This dessert wiggles like Jell-O and slowly melts in your mouth like water.  The Rock-star ingredient to this recipe is an ingredient called Agar (also known as Agar-Agar and Kanten), which is a gelling agent make from red algae. 

---
Sweet!  So, How Do I Make Them?
This is where the fun begins!  Now it's time to mix a bit of science with raindrop making awesomeness.  To make your own Raindrop Cake, we will need to combine a few ingredients...
---
Let's get started with what you need for your own "Raindrop Cake"!!
Agar Powder.  Also known as Agar-Agar or Kanten.


Half Circle Silicone molds (We found ours off Amazon).

Sugar

A Measuring Cup.

Measuring Spoons.

Pot to Heat Your Ingredients


Water.

Optional Ingredients ( You can add sprinkles, fruit or candy).
---
Now, let's get mixing!  The first thing we are going to do is take 1/2 a tea spoon of our "Agar" and mix it in 2 cups of water and then bring it to a boil.  If you are like most, you probably want your cake sweet.  We get it...it is recommended to you add 1/2 a teaspoon of sugar to this recipe.  However, if you are a kid, feel free to double or even triple that.  Then we will just keep on stirring until everything is dissolved.

Now that your ingredients are dissolved, it's time to turn off the heat and create some raindrop masterpieces.  You will need to take your mixture and pour it carefully into your round silicone molds.  Once your mixture is in, it's time to place your molds in the refrigerator to cool off for 30 minutes. 
Are you ready for the Wiggle, Giggle?  After your ingredients are completely cooled, it's time to reveal your Raindrop Cake yummy treat!
So now that you know how it works, join in on the fun at home and laugh along while The Wild Adventure Girls create Raindrop Cake deliciousness!
Will Angelina, Annabella and Scarlett love their new Raindrop Cake so much that they will never drink real water again?  Tune is to see what happens when The Wild Adventure girls explore the world of science and cake!
---
Now tell us, What Have You Discovered Lately?                                           Like this Article?  Don't forget to share!
---