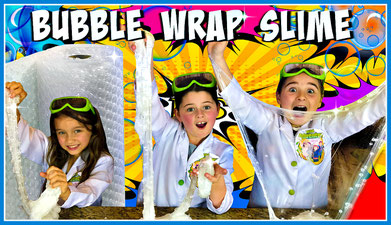 Have You Ever Heard of Slime You Can Pop?

Today The Wild Adventure Girls are going to create some crackly slimy fun and show you how to make your very own Bubble Wrap Slime!

---
What is Bubble Wrap Slime?  Think of a super stretchy, crackly slime that sounds just like bubble wrap when you push or squeeze it.

Cool!  So, How Do I Make It?
This is where the slimy fun begins!  Now it's time to mix a bit of science with poppy slime making coolness.  To make your own Bubble Wrap Slime we will need to combine a few fun ingredients...
---
Let's get started with what you need for your own "Bubble Wrap Slime Recipe"!!
Clear Elmer's Glue.

Baking Soda.


Contact Lens Solution (this will activate your glue and turn it into gooey slime).

Clear Decorative Fillers. (Can also be known at "Decorative Beads."  We purchased ours at Michael's).

A bowl for mixing.

---
Now, let's get mixing!  The first thing we are going to do is take our clear Elmer's Glue and pour it into a bowl.  Next, we are going to add a little bit of baking soda.  This is going to help create the perfect texture of slime. 
Now, get ready to activate your slime!  
You're going to add your contact lenses solution and mix until your glue turn into a slime masterpiece.  We recommend adding a little at a time and to keep adding a mixing until you can work your slime with your hands.

Are you ready to make some slime poppin' magic?!
Sweet, let's keep going!  Now that your slime is ready to go, it's time to get that slime crack-a-lackin'!  Your going to want to take your decorative discs and mix them into your slime.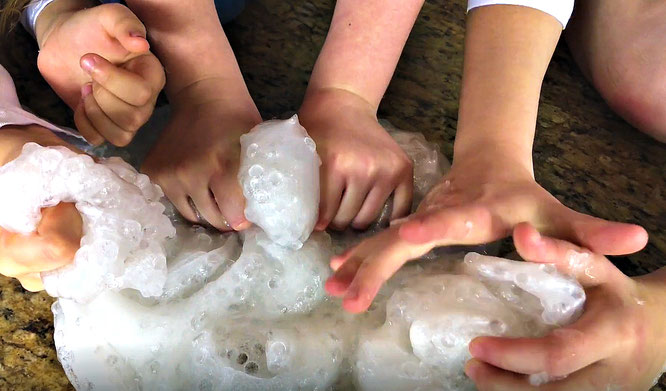 Wait, do you hear that popping?  We do to!  Congratulations, you have just made bubble wrap slime!
So now that you know how it works, come join the fun at home and laugh along while The Wild Adventure Girls make Bubble Wrap Slime epicness!
Will Angelina, Scarlett and Annabella's hands become so tired from popping their bubble wrap slime that they will no longer be able to make another slime again?  Tune is to see what happens when The Wild Adventure girls explore the world of science and slime!
---
Now tell us, What Have You Discovered Lately?                                           Like this Article?  Don't forget to share!
---