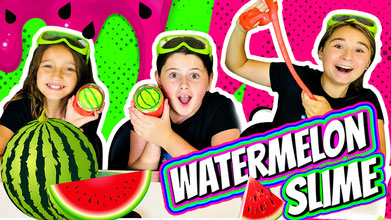 Have You Ever Wanted to Make Slime That Looks as Delicious as a Watermelon?
Today The Wild Adventure Girls is going to show you how to make one of their favorite summertime slime's, Watermelon Slime! 

---
What is Watermelon Slime?  Think of slime that looks so fun and squishy, you could eat it up just like a juicy watermelon.
Sweet!  So, How Do I Make It?
This is where the fun begins! To make your own Watermelon Slime, we will need to combine a few ingredients... 
---
Let's get started with what you need for your own "Watermelon Slime Recipe"!!
1 Cup Clear Elmer's Glue.

Red Food Coloring.

Contact Lens Solution (this will activate your glue and turn it into gooey slime).

Baking Soda.

Black Sequence (to sprinkle on your slime as watermelon seeds).

Insta-Snow (We purchased ours off Amazon).

Plastic Container for Your Slime (Purchased on Amazon).

Green Paint and Paint Brushes.

1 Package of Air Dry Clay.
---
Now, let's get started!  The first thing we are going to do is create some instant snow!  This is going to give our watermelon slime a super cool watermelon texture.  To create instant snow, we are going to take two scoops of "Insta-Snow Powder," pour it into a bowl, and then mix in a small about of water. 
Get ready to be amazed because this snow is going to grow right before your eyes!  (Note: For this slime recipe, we want our snow a little more on the runny side, so add your water slowly until your snow becomes more of a summertime slushie).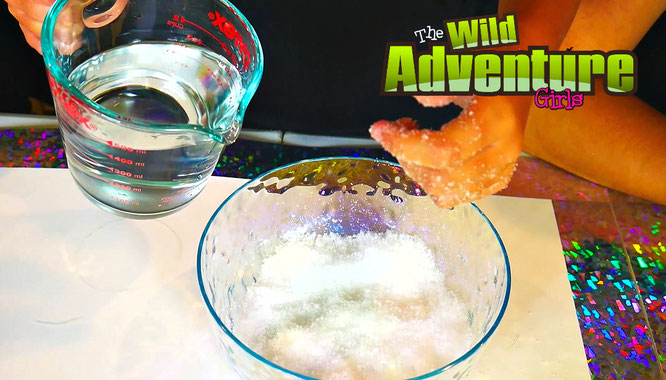 Do you have your snow ready to go?  Great, let's keep going!  The next thing we are going to do is make our super stretchy Watermelon Slime.  To do this, we are going to add about a cup of clear glue into a bowl and then all your instant snow.  Once those ingredients are in your bowl, it is time to get wild and adventurous and add a few drops of red food coloring, and then mix it all together. 
(This final step is optional, but we think it makes your slime even more fun.  In our episode we added a yummy watermelon scent to the slime.  You just need a few drops to make your slime smell like a delicious watermelon!).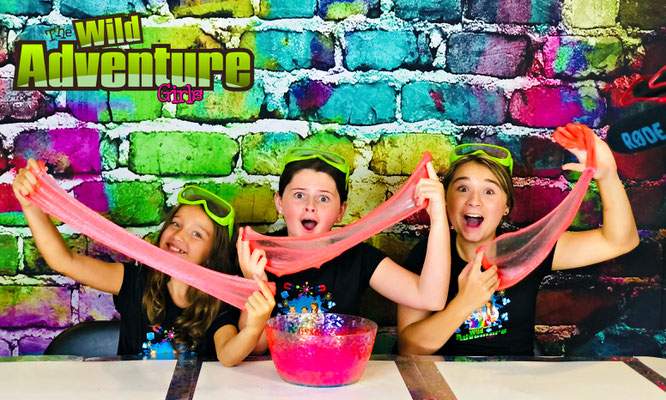 It's Slime Time!  Get ready to make some slimy magic!  To activate your watermelon slime, you will need to stir in contact lens solution and a pinch of baking soda.  Then, you will want to keep adding and mixing these ingredients until your glue turns into a watermelon slime masterpiece.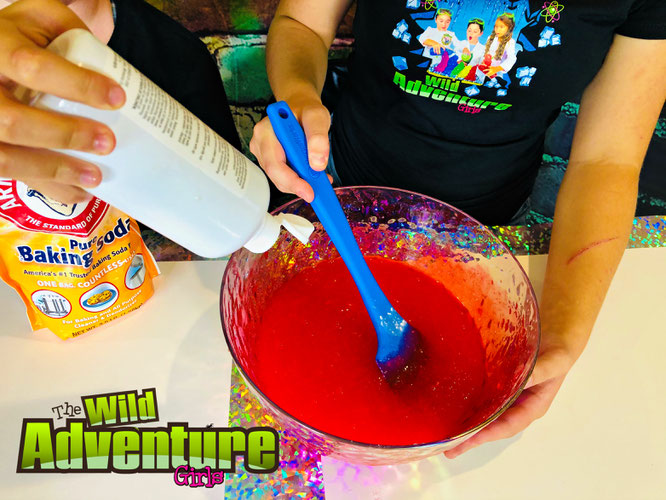 ---
Is your slime looking so delicious you could just taste it?  We thought so!  Only a few more steps to go.  For the finishing touches, we are going to top our slime off with an adorable watermelon lid.  For this step, we are going to take Air Dry Clay, flatten it out, and then cut a circle out of our clay using the same container we are going to put our slime in.  Think of using your container just like a cookie cutter.
Once you have the perfect watermelon shape cut out, it is time to paint it to look just like a watermelon!  Once it is painted, you will want to set it aside for about 20 minutes to dry.
So, now that you know how to make it, it is time to join The Wild Adventure Girls in their brand new episode as they show you how to make "Watermelon Slime!"
---
Will Angelina, Scarlett and Annabella have so much fun playing with their new slime, they will never want to make any other slime ever again!?!  Tune is to see what happens when The Wild Adventure Girls explore the world of science and slime!
Learn How to Make Bubble Gum Here! Homemade Bubble Gum Recipe
---
Now tell us, What Have You Discovered Lately?    Like this Article?  Don't forget to share!
---